Ventura Hydro-Jetting For Drain Cleaning & Clogs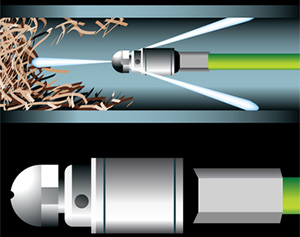 There's no better way to ensure your Ventura sewer lines and drains are thoroughly clean than with Hydro-Jetting. It is an environmentally safe way to remove years of sediment buildup within the pipes and eliminate tough clogs once and for all.
Ventura hydro-jetting also removes bacteria from within your drainage system. We use high powered hoses to remove all obstructions within your pipes and drains.
This method helps to make your home environment safer for you, pets, and children.
High powered jets push through any obstacles that they encounter including hard as rock lime scale buildup and tree roots. With state of the art technologies, our Ventura Plumbers at AAA Paradise Plumbing & Rooter offer you this safe and effective hydro-jetting service.
Family Owned Ventura Plumbing Business
Expert Plumbers
State-of-the-art Tools
Affordable Services
Quality Workmanship
Honest Prices
Safe Hydro-Jetting
Is Hydro-Jetting Safe For My Pipes?
Absolutely. The high pressure water jetting process does not damage your pipes or other plumbing components. In fact, it's much better for your plumbing system than any chemicals or drain cleaners.
Don't use chemicals for drain clog removal and sewer line cleaning. Choose this natural process instead as a safe and environmentally friendly service.
Long-Term Drain & Sewer Line Cleaning
Environmentally Friendly Process
Safe For You, Family, & Pets
Bacteria & Germ Elimination
No Chemicals
How Often Should Hydro-Jetting Be Done
Depending on the condition of the water that supplies your home, you may need hydro-jetting once a year, every couple of years, or longer.
A home with a water softener system is much more likely to keep drains and pipes clean as the sediments present in all water sources are dissolved instead of turned into scale.
If you have a home with a water softener and a hot water heater, you'll not have to deal with scale buildup within your pipes.
With no water softener system, the scale is produced by the heat of the hot water tank where it sticks to everything including the pipes. Eventually, pipes narrow with a rock-hard substance to a point where no water can flow through.
Hydro-Jetting can solve these problems and other problems such as tree roots growing into the sewer lines.
Your drains will be getting a complete cleaning when you call on AAA Paradise Plumbing & Rooter. We clean drains and we clean them right. Using the latest technology allows for us to be more proficient as plumbers and our working knowledge of drain repairs.
We can also video inspect clogs and sewer lines to locate and diagnose the problems so you know exactly what is going on with your plumbing system.
For affordable, expert Ventura Hydro-Jetting, please call 818-658-9222 or 805-642-9222 or complete our online request form.