Why is Hydro-Jetting a Good Idea in Ventura, CA?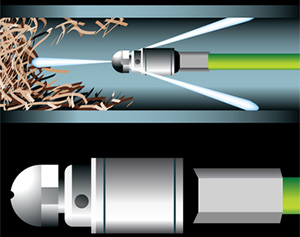 You haven't heard of the latest trend in unclogging drains, then you obviously haven't heard of Ventura hydro-jetting yet. Hydro-jetting from AAA Paradise Plumbing & Rooter is the best way to clear your drains of obstacles and sediment. When your drainage problem persists, then have this service done by your local plumbers. Your local plumbing contractor will be equipped with high powered hoses that's going to get your drains unclogged. Plumbing services and repairs are done best by professionals.
The professional plumbers at Ventura have the know-how and knowledge that it takes to clear your drains. Of course you can dump a drain cleaner down your drains in hopes that something magical is going to happen, but chances are that your drains are going to continue to clog if you don't have an industrial cleaning done on them.
Most homeowners tend to ignore their drains until something occurs such as clogs. When a clog happens the firs thing that many of them do is try to plunge out the clog as there are many home remedies that work just as there are many that don't. What you need to be doing is getting a hold of a plumber.
Drainage clogs tend to cost lots of money to eliminate. You spend half your day waiting for a repair person to come out and the other half worrying about how you're going to pay for the repair. You don't have to worry any longer as there is hydro-jetting. It's the ultimate technique for drain cleaning.
If you've lived in the Ventura area for a long time, then you know that California is always on top of things in regards to being cutting edge. But it really is on top of things as far as plumbing is concerned. Get you Ventura hydro-jetting done today and you'll see why AAA Paradise Plumbing & Rooter is always the community's choice for plumbing.
Hydro-jetting is a great idea for homeowners in the area as you are more prone to loose desert sediment  and earthquakes. For centuries, California has been known to have earthquakes as it's close the the fault line in San Andreas. When plates from within the earth move back & forth, the soils gets knocked around which gets into your drainage system.
Hydro-jetting is a blast. All of the impurities that lie within your drains and nearby will be blasted away leaving only leaving clean drain behind. When you have hydro-jetting done you won't have to have your drains cleaned every couple of years as hydro-jetting is a long-term solution.
If you're looking for hydro-jetting, then make sure that you contact the plumbers with the most experience under their sleeves. Go with AAA Paradise Plumbing & Rooter. You can't go wrong with a Ventura hydro-jetting service like ours.
If you are looking for a Hydro Jetting Expert, please call AAA Paradise Plumbing & Rooter at 805-642-9222 or fill out our online request form.