Plumbing Leak Symptoms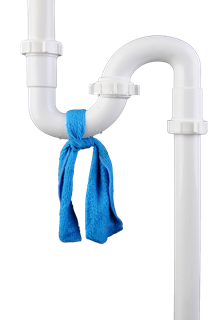 Plumbing leaks can happen anywhere along your plumbing system. There is a large network of pipes and connections to serve the household. Some sections supply the fresh water system and some the wastewater system.
Leaks are not always easy to detect. One of the most efficient ways to find leaks is to have a professional Ventura plumber test for leaks. We use sophisticated equipment to find and detect leaks. Plumbing leaks can be found anywhere along the system including underground and within walls with ease.
As a homeowner, there are plumbing leak symptoms you can watch for. Keep in mind that most often a plumbing leak will run down the pipe, so any wet areas you find can be located up or down the pipe system and not at the immediate location where the symptoms show up.
Plumbing Leaks Can Cause A Rise In Utility Bills
If you are experiencing a rise in your water or electric bill, there could be a plumbing leak problem. For a hike in the water bill, you can check for leaks around the plumbing connections that join your fresh water systems.
This includes areas where your hot water heater are connected. Hot water heater leaks can cause the electric bill to rise if the leak is located down the hot water lines. The tank will continue to replace and heat water as the leak drips the hot water away.
Be sure you also check where your washing machine is connected to the supply lines. Small drips can occur yet go unseen because the dripping goes down the drain line area where these lines are located. Check underneath sinks as well. Feel the connections or use apply a piece of paper on the connections to see if the paper gets wet.
Underground Plumbing Leak Symptoms
Wet or soggy areas of the landscape are a symptom of an outdoor plumbing leak. Every so often, walk around your property and look for soggy areas. You can also spot an underground plumbing leak where the grass is greener in one spot than it is in the rest of the landscape. This could be a sewer line or fresh water line leak.
Plumbing Leaks At The Water Meter
Every home has a water meter which has the potential to leak. Turn off all the systems in your home that use fresh water including the hot water heater. Make sure no one flushes a toilet or uses the sinks. Check the meter to see if it is registering usage. If it is, there is likely a leak going on somewhere.
This is one area where it's common for a leak to drip from the pipe in another location and run back to the meter or down to another connection. If the connections near the meter are wet, it doesn't mean the leak is located there.
If in doubt, call in your local plumber. In the Ventura, CA area, call AAA paradise Plumbing & Rooter for water leak testing. We'll help you find the leak no mater where it is.
If you are looking for Ventura Plumbing & Rooter professional contractor, please call AAA Paradise Plumbing & Rooter at 805-642-9222 or fill out our online request form.