Echo Park-Silver Lake, CA Plumbing & Drain Cleaning Services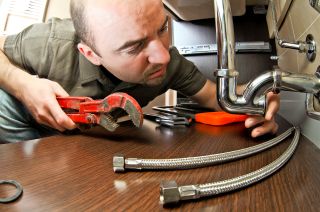 You can trust AAA Paradise Plumbing & Rooter to take care of all your Echo Park-Silver Lake plumbing repairs and drain cleaning needs. Our employees are highly trained and committed to providing the highest levels of quality available to our customers. Our Echo Park plumbers focus on continually educating ourselves on the latest technologies and practices so that we can provide our customers with accurate, quality plumbing services.
AAA Paradise Plumbing & Rooter has been working with Echo Park-Silver Lake homeowners and their plumbing systems since 1976. In that time, we've earned the reputation as one of the most trusted and reliable plumbing and sewer service companies. We have achieved a reliable reputation by consistently providing our clients with not only high-quality workmanship, but also courteousness, respect, and professional customer service.
We are dedicated to providing you with the right solutions for all your plumbing needs. Call us today with any questions you have about the services we provide or to schedule your appointment. We'll be looking forward to working with you.
Fast 24/7 Emergency Plumbing Repair Service
At AAA Paradise Plumbing & Rooter, we offer fast 24/7 emergency plumbing services in Echo Park-Silver Lake because we know life's problems can come unexpectedly, especially in the case of plumbing and drain issues.
If you need a plumber fast for emergency repairs, our experienced pros are on call and ready to work for you no matter how complex the job. You can depend on the skills of our licensed, insured, and bonded technicians. We are dedicated to providing you with the right solutions for all of your plumbing needs.
Need To Upgrade Your Echo-Park-Silver Lake Kitchen & Bathroom Fixtures?
Are you designing and remodeling a kitchen or bathroom? The most important aspect to consider when planning the project is where the location of your plumbing fixtures will be.
There are times when you'll want to move a drain and the water lines so you can move the location of a fixture. Whether you're leaving the floor plan the same or not, upgrading the fixtures is a great idea. You can get all the features you want in a new tub or kitchen faucet.
You'll need a plumber if you're planning to replace or repair plumbing fixtures in your home. Whether it's a complicated change in the plumbing layout or something simple like replacing a faucet, call us. We're ready to help you improve your home.
For reliable plumbing services in Echo Park-Silver Lake, CA, please call AAA Paradise Plumbing & Rooter at 805-642-9222 or 310-905-8922 or fill out our online request form.