Water Leak Detection & Repair by AAA Paradise Plumbing & Rooter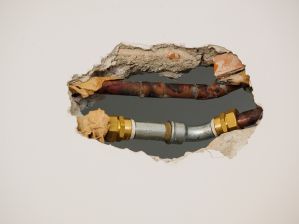 Pipelines are used in water transport. If properly maintained, they can literally last forever when made out of non-biodegradable materials.
Leaks occur due to several common reasons. Nearby excavation equipment is often the cause. Call your Ventura plumbing authorities before you excavate or dig to find out where pipelines are buried.
If pipes are not properly maintained, they can begin to corrode, particularly at construction joints or low points where moisture can cause the jointing to corrode. Inspection tools can identify defects or corrosion before they leak.
Leak Detection Systems
Leak Detection Systems in Ventura can be either internally based or externally based. Internally based systems use flow, pressure, or fluid temperature sensors to monitor the inside of the pipe.
External systems use infrared radiometers or thermal cameras, vapor sensors, or acoustic microphones or fiber-optic cables to monitor the outside of the pipe.
Video inspection is a state of the art inspection system that helps to identify sewer problems such as pipe defect, root infiltration, and blockages. With this technique, a long video probe is inserted into the sewer line and is pushed down the sewer line.
Video Inspection Water Leak Detection
Tells the customer exactly what is wrong with their sewer system
Prevents unnecessary digging and eliminates guesswork
Assists in developing a precise scope of work before excavation begins
Detects any third party damage to the sewer lines (utility companies, city trees, etc.)
Perform an exact tracing of the entire sewer line.
There are many more methods that professionals use for water leak detection, include using sound, light, and fiber-optics.
Leak Detection and Repair Plumbing Professionals
When you call AAA Paradise Plumbing & Rooter, you'll not only get great service, but a plumbing tech that's well trained in repairs.
Our plumbing techs are licensed and insured, and are experts that you can trust. Here are some of our services:
Plumbing Repairs
Fixture Repair & Replacement
Water Lines (Repair & Replacement)
Gas Lines (Repair & Replacement)
Clogged Drains, Sinks, & Toilets
Broken Pipe Repairs
Sinks & Food Disposals
Toilets | Showers | Bathtubs
Water Heater (Repair & Replacement)
Tankless Water Heaters (Repair & Replacement)
Water Leak Detection & Repair
Video Inspection Service
Slab Leak Repairs
Hydro-Jetting
For the last 30 years, we have been a trusted plumbing company in Ventura County and surrounding areas. From leaky faucets, broken fixtures, main line repairs, to hydro-jetting, we do it all. No matter the size of your problem, we can help you.
Just call on our professionals any time when you think your plumbing is leaking! We are available 24/7 to help you.
If you are looking for a Ventura Leak Detection Expert, then please call 818-658-9222 or 805-642-9222 or complete our online request form.