Trenchless Sewer Replacement in California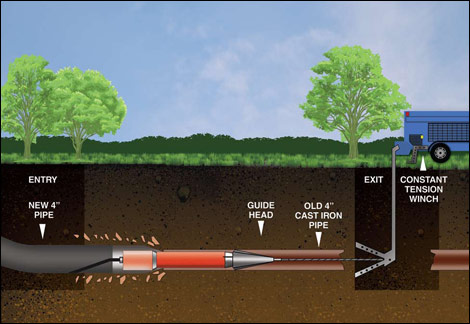 Want a way to replace your sewer without tearing up your Ventura yard? We are your Ventura plumber that offers a revolutionary new method known as trenchless sewer replacement. What is trenchless sewer replacement? It's a unique method where a large cone-shaped head is hydraulically pulled by a steel cable through the current sewer line. It slowly breaks apart the worn pipe underground while simultaneously setting the new pipe into place to replace the older pipe. The new pipe has the same dimensions and specification as the old pipe so that the transition and connection is seamless. This keeps your entire yard in tack while successfully completing the job.
Benefits of Trenchless Sewer Replacement
The greatest benefit of the trenchless sewer method is that there is either minimal or no damage to your yard, driveway, sidewalk, or landscaping, this keeps your yard from being an eyesore during and after the repair work is done. Another benefit is that this type of work saves you money in labor, equipment, and yard repair costs. This is a tremendous savings compared to the old methods.
Dependable Seamless Pipes
New more modern pipes are constructed far better than the old pipes and are far more durable. Sewer line seams and joints use to be the most vulnerable points of any sewer line. With a seamless high-quality HDPE pipe, you will eliminate the probability for potential root damage or joints that are misaligned or come apart. Newer pipes also come with a lifetime guarantee and warranty for your satisfaction.
The Trenchless Method Step by Step
Many of our clients ask us how this method works. That is a very good question. Basically, trenchless methods follow these steps:
Sewer Camera Inspection – Thanks to technology we can now identify sewer problems and fix them without ever digging down into the holes. A sewer inspection can now be lowered into the sewer and locate the broken pipe for us. We are able to more accurately evaluate what the problem is and how to fix it. We can even take photos and record the video footage for review.
Broken Sewer Line Removal – A hole is created on both end of the old pipe in order to identify where it begins and where it ends. A removal cable is inserted in one end of the pipe and then driven into the other end. One of the cable is attached to a jack while the other end is attached to an expanding head.
Brand New Pipe Insertion – The expanded head is now connected to a brand new pipe. As the head is pulled through the broken sewer line, it bursts it apart while pulling the new sewer line through. By the time the new sewer line is all the way through the old is completely broken apart and out of the way.
If you are looking for a Ventura trenchless sewer professional contractor, please call AAA Paradise Plumbing & Rooter at 805-642-9222 or 818-658-9222 or fill out our online request form.