Simi Valley, CA Plumber – AAA Paradise Plumbing & Rooter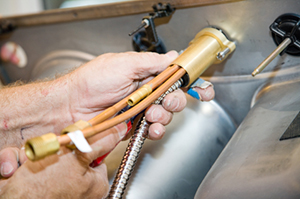 You'll find a Simi Valley professional plumber waiting to take on your repairs when you contact AAA Paradise Plumbing & Rooter. For nearly four decades, we are the plumbing techs that have been repairing all of your neighbors' faucets, leaks, drain and more. Jump on board and call us today. Chances are, you won't be disappointed.
Simi Valley Plumber
Did you know that Albert Einstein said that he'd be a plumber if he could do it all over again? Being a plumber is a rewarding job especially when you get to do installations. Installations bring more skill for our Simi Valley plumbers as we concentrate on hot water tank and faucet installations.
A plumbing installation of any type, when done by a professional, will bring you lots of usage without breaking down. If you want your plumbing to last, then you better make the call to AAA Paradise Plumbing & Rooter.
Go with the plumbing services of AAA Paradise Plumbing & Rooter and you'll understand why your friends and family utilize our services so much. Our techs bring peace of mind with every plumbing service that they do.
Simi Valley Plumbing Company
A Simi Valley plumbing company can get you what you need as far as your plumbing is concerned. For example, if your shower unit is leaking, you obviously have something internal going on. Either the showerhead was damaged during the initial installation or there's something more.
Why continue to listen to your shower head leak all night. When you tighten the hot/cold knobs and the showerhead is still dripping, then that's when you call your dependable plumbers at AAA Paradise Plumbing & Rooter.
When you need your shower repaired, then go with the talents of our Simi Valley plumbers from AAA Paradise Plumbing & Rooter. We'll have you showering, without leaks, in no time at all. Call today and schedule an appointment.
Simi Valley Water Heater Repairs
Do you have a house full of people and are always the last one to get a shower only to find out that's there's no more hot water? If you've found yourself in this type of situation, then your water tank may be starting to go bad.
A hot water tank's main objective is to produce hot water when you need it. Don't be frustrated anymore over being the last one in the shower. You will never have to take a cold one again when you call AAA Paradise Plumbing & Rooter.
Simi Valley water tank repairs can be done by dialing the Simi Valley plumber at AAA Paradise Plumbing & Rooter.
Simi Valley Reviews
AAA Paradise Plumbing & Rooter appreciates your feedback. Please give us more time to collect your reviews and they will be displayed below.
---
Recent Articles
Plumbing Leak Symptoms

Plumbing leaks can happen anywhere along your plumbing system. There is a large network of pipes and connections to serve the household. Some sections supply the fresh water system and some the wastewater system. Leaks are not always easy to detect. One of the most efficient ways to find leaks is to have a professional...

Read More
If you are looking for a Simi Valley Plumbing & Rooter Contractor, please call AAA Paradise Plumbing & Rooter at 805-642-9222 or fill out our online request form.