Trying to Find a Reputable Plumber to Do Slab Leak Repairs in Ventura, CA?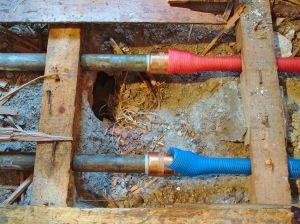 A slab leak is a piping leakage found under a concrete floor. If your experiencing one currently, then you're going to need a professional Ventura slab leak repair done. Letting the leak go will only cause bigger problems. Contact us today for more details about how we can take care of your slab leak at AAA Paradise Plumbing & Rooter.
Slab leak repairs are not as uncommon as you would think. They happen a lot in the 93004 zip code range. Remember that water is relentless and it will not stop until you call in a professional Ventura plumber who possesses the talent to rid your home of all leaks.
Whenever you're looking for a plumber to do Ventura slab leak repairs, look for ones that offer an emergency service. You'll need a repair person on call 24 hours a day for a "just in case" scenario. Don't feel as though you don't have options when you can utilize the pros at AAA Paradise Plumbing & Rooter.
Depending on how bad your leak is; the repair options may include: on the spot repair, repiping or epoxy pipe coating. If we're going to do the repairs on the sport, then we'll have to open up the slab for a more in-depth look. If there needs to be a repiping of your pipes, the entire unit will need to be replaced.
It doesn't matter how big or small the leak is, the truth is; it's your home and you need to take care of these problems before they take care of you. Call ahead and alert us on the state of your leak. We'll have it taken care of in a jiffy.
Ventura slab leaks repairs don't just fix themselves. Reach out to the experts at AAA Paradise Plumbing & Rooter today and start taking advantage of our convenient plumbing services.
The following are slab leak symptoms:
Hot Flooring – If you're stepping on a hot floor, that can be an indication that there's hot water pouring out of your pipes below.
Cracked Flooring – This is one crack that no plumber wants to be associated with. Cracks in your flooring means that the water is starting to get worse. Contact the experts today.
Running Water -If you're hearing water running when all the water is turned off in your home, that doesn't mean you have a phantom. It means that you have a slab leak.
Mildewy Carpets – If you carpeting is starting to develop mildew and excess moisture, this could mean that a leak is occurring underneath.
Higher Water Bills – No one wants to pay high water bills, but no one also needs a slab leak. If you have a slab leak,in your home, then call the plumbers in today and say goodbye to those high water bills.
If you are looking for a professional Ventura Slab Leak Repair Expert, then please call 818-658-9222 or 805-642-9222 or complete our online request form.