Gas Line Repair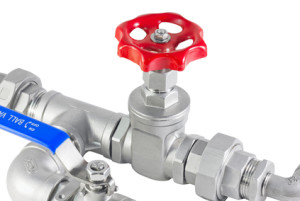 A gas leak is a dangerous emergency, leading to a major risk of fire and deadly carbon monoxide gas. Natural gas is odorless, although added compounds create a rotten egg smell that will alert you whe there's a gas leak so you can take action and stay safe. When you've experienced a gas leak, it's important to ventilate and evacuate your home, as well as shutting off the gas. When your in-home gas lines rupture or fail, you'll need the very best and most highly qualified professionals to perform the necessary repairs to restore your gas supply and ensure the continual safety of yourself and your home. Your gas lines are constantly at work providing hot water, powering your stove, running your furnace, and other necessary tasks, meaning that when things go wrong, it can drastically disrupt your comfort and routine. Because of this, you'll want to get repairs done as soon as possible. At AAA Paradise Plumbing and Rooter, we're Ventura's premiere plumbing repair service. With ten trucks and fifteen capable, experienced, knowledgeable professional technicians on staff, we always have the personnel to immediately arrive at your home or business to perform speedy, thorough repairs.
Gas Line Maintenance and Gas Leak Detection
The best way to prevent a gas leak is regular maintenance. At AAA Paradise Plumbing and Rooter, we provide Ventura homeowners with thorough inspections and maintenance to help ensure that your gas lines are intact and functioning correctly. If you've recently bought a new home, it's a good idea to call our licensed professional plumbers to pressure test your gas lines to make sure there aren't any leaks. We use a variety of methods for leak detection, and if we find anything, we'll be able to fully repair it so you can begin enjoying hot water, central heating, and other conveniences in your new home.
Why Hire Us?
At AAA Paradise Plumbing and Rooter, we pride ourselves on our dedication to quality workmanship and outstanding customer service, values that have won us many satisfied customers in over two decades of service in Ventura and the surrounding areas. We employ a large staff of friendly, highly trained technicians who can help you with all of your household plumbing repair, installation, and maintenance needs. From gas leak detection and gas line repairs, to other household plumbing services like drain cleaning and plumbing fixture repair, we're a trusted company among Ventura homeowners and business owners. Call us today to find out more about gas line repairs and leak detection, as well as our many other fine plumbing services, including:
Plumbing Repairs
Rooter Service
Drain Cleaning
Sewer Line Repairs
Water Treatment and Purification
Backflow Prevention and Testing
Tankless Water Heater Installation
Water Softeners
Water Heater Repairs and Installation
Gas Fitting
And More
With plumbing services from AAA Paradise Plumbing and Rooter, you'll always know you're in capable hands. You'll enjoy prompt, friendly service and effective repairs from our courteous team of professionals, which has helped make us a local leader for plumbing services in Ventura.
If you are looking for a Ventura Gas Line Repair Expert, then please call 818-658-9222 or 805-642-9222 or complete our online request form.