In Dire Need of a Plumber in Thousand Oaks, CA?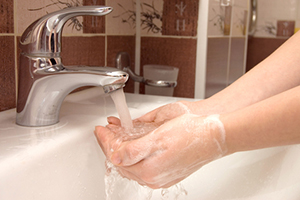 If you are in desperate need of a Thousand Oaks professional plumber, then you may want to check out AAA Paradise Plumbing & Rooter. Your plumbing needs will always be met by our top-rate plumbers. Come to us for repairs and water heater installations. Call today and we'll be out and soon as you put down the phone.
Thousand Oaks Food Disposals
Your Thousand Oaks food disposal is used a lot in your home. After all, it's a convenient mechanism that makes life easier, but when it gets clogged up, you don't want to go sticking your hand down the disposal. You want to call the plumber.
The plumbers that you'll find at AAA Paradise Plumbing & Rooter will repair or replace your food disposal. We are highly trained in all circuitries of plumbing. No challenge is too big or small enough for us.
You can't find top-notch plumbers like us as we'll rush out to your home and have your food disposal repaired or any other of your appliances. Go with your gut's instinct and contact AAA Paradise Plumbing & Rooter. You know you've made the right choice when you go with our plumbing services.
Thousand Oaks Plumbing Company
There are tons of reasons why you need a Thousand Oaks plumbing company in your neighborhood. Since there are many to choose from, let us narrow the process down by saying that AAA Paradise Plumbing & Rooter is the people's choice for quality plumbing.
If you have a leak or a clog, AAA Paradise Plumbing & Rooter will take care of it for you. Using the latest technologies in plumbing, we are the techs that can get rid of even the toughest clogs there are. Try us and see, we dare you.
Clogs and leaks are best left for the expert Thousand Oaks plumbers at AAA Paradise Plumbing & Rooter. Not only will our plumbing techs bring state-of-the-art tools and machinery to get the job done, but expertise that you can't find anywhere else.
Thousand Oaks Water Heater Repairs
You don't have to stress about locating a Thousand Oaks water tank repairs service as AAA Paradise Plumbing & Rooter is able to install your new one. New water hot water tank installations are easy and done on your schedule.
We come to you. You contact us about a hot water tank and our techs will be right out. It's as simple as that. At AAA Paradise Plumbing & Rooter, we totally understand that you're a busy person and need your hot water.
Hot water tanks are best when they're installed by your Thousand Oaks plumber at AAA Paradise Plumbing & Rooter. We've been heating the community's water for 38 years. When your water tank goes, call us.
Thousand Oaks Reviews
AAA Paradise Plumbing & Rooter appreciates your feedback. Please give us more time to collect your reviews and they will be displayed below.
---
Recent Articles
Tips for Oxnard Water Heater Energy Efficiency

A hot water heater is one of the largest and most dangerous pieces of equipment that you host in your home. Since your Oxnard water heater is so large, it can use a lot of energy. If you have noticed your energy bills skyrocketing lately, it is time to make your Oxnard water heater more...

Read More
Whole House Filtration System

Whole House Water Filtration Systems in Ventura Above and beyond anything else, the most important aspect of your plumbing system is that it provide your family with safe and clean drinking water. If you are concerned about the quality of the water within your home, AAA Paradise Plumbing and Rooter is here to help. Our...

Read More
If you are looking for a Thousand Oaks Plumbing & Rooter Contractor, please call AAA Paradise Plumbing & Rooter at 805-642-9222 or fill out our online request form.