Ventura Tankless Water Heaters: Installation, Repairs, and Maintenance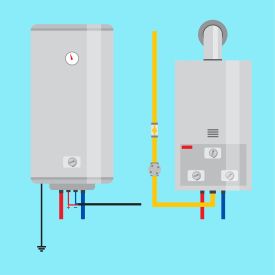 We're the Ventura plumbing contractors to call for tankless water heater installation, repairs, and maintenance. Tankless water heaters are an excellent energy-saving alternative to traditional water heaters, which can produce energy losses as they store water in their tanks. This type of water heater only provides hot water when it's needed, making it a worthwhile investment that will bring long-term savings in spite of their higher initial investment. If you're interested in making your household more efficient by installing a new tankless water heater, call our certified professional plumbing experts at AAA Paradise Plumbing and Rooter.
How do Tankless Water Heaters Work?
A tankless water heater will heat hot water directly, rather than storing up a surplus in a tank. When you turn on the hot water tap, cold water runs through a pipe into the unit. It's then heated up by either an electric element or a gas-powered burner. Because you don't need to wait for a tank to fill up, you'll enjoy an endless supply of hot water. They're an especially good choice for a smaller household that uses less hot water, where they're often 25-35% more energy efficient than traditional water heaters.
The Many Advantages of a Tankless Water Heater?
Some of the many benefits of a tankless water heater as an alternative to a traditional type of water heater include:
Hot water on demand. With a tankless water heater, you'll never run out of hot water in the middle of a shower, or have to wait for the water to heat up. They can prepare hot water in only a few seconds.
Environmentally friendly. Because tankless water heaters don't waste energy by storing the water in a tank, they're a "greener" option, as well as saving money on your gas or electric bill.
Safety. A gas-powered tankless water heater is actually safer than a conventional gas water heater.
Compact. Tankless water heaters take up less space than their counterparts, freeing up space inside your home.
Comfort. The continuous flow from your tankless water heater means you'll enjoy consistent water temperatures, with water that never suddenly runs cold.
Cost-effectiveness. The energy savings with a tankless water heater will be reflected on your energy bill, making the initial investment incredibly worthwhile because of the long-term financial savings that you'll enjoy.
Ventura's Tankless Water Heater Experts
At AAA Paradise Plumbing and Rooter, we've proudly provided excellent service for Ventura homes and businesses since 1993. Our staff of experienced, knowledgeable plumbing technicians can help you with all of your plumbing needs, from tankless water heater installation to routine maintenance and repairs. When you hire us, you'll know your new tankless water heater is installed correctly by a skilled professional, ensuring that it runs smoothly, safely, and efficiently. With our ten trucks and fifteen licensed, trained staff members, we can arrive as soon as you need us to install a brand new tankless water heater so you can start enjoying endless hot water and energy savings.
If you are looking for a Ventura Tankless Water Heater Expert, then please call 818-658-9222 or 805-642-9222 or complete our online request form.