Ventura Plumbing Fixture Repair, Replacement, or Installation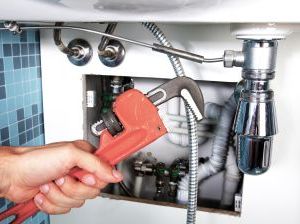 For the best Ventura area plumbing fixture repairs, call AAA Paradise Plumbing.
There are many plumbing fixtures in your home, both large and small. The shower, tub, commode, and sinks are all plumbing fixtures. Valves, Faucets, Spigots, and anything else attached to your plumbing system is also a fixture.
When something goes wrong with a fixture, you will likely find yourself with a leak that causes problems such as flooding or drywall damages.
AAA Plumbing Repair & Rooter wants to be your go-to team for Ventura Plumbing fixture repair. Whether you have an emergency leak that needs repair or you are ready to upgrade old plumbing fixtures, we're ready to help.
Kitchen Faucets & Sinks
Showerhead Fixtures
Flush Valves
Toilet Tank Cracks
Walk-In Tubs
Bathtubs & Whirlpool Tubs
Garbage Disposals
Dishwashers
Water Filtration & Softeners
Instant, Tankless Hot Water Heaters
Ice Makers
Bathroom Faucets & Sinks
Toilets
Outdoor Faucets
Fast Plumbing Fixture Repairs For Ventura & More
If you live in the Ventura area of California, you'll need a plumber for fast plumbing fixture repairs. Pluming fixtures can leak at the most unexpected and inconvenient times.
Just call us for our 24/7 emergency plumbing repair service to have your fixtures repaired or replaced. We'll arrive with fully stocked trucks so you can get back to life as usual quickly.
Fully Licensed & Insured Plumbers
Honest, Ethical Plumbing Fixture Repairs
Established Plumbing Fixture Repair Company
Family Owned Ventura Plumbing Business
24/7 Emergency Plumbing Repairs
Upfront, Affordable Prices
No Surprise Fees
Repairs For Leaking Faucet Fixtures & Broken Shut Off Valves
Faucets that leak can often be repaired effectively without having to replace them. A broken shut off valve, on the other hand, may need to be replaced depending on what's wrong with them.
Have you ever taken a look at the plumbing behind the toilet or underneath the sink? The shut-off valve is made of metal which can corrode and rust. Over time, the valves can get stuck or so corroded that when you try to use them they break off.
Believe us when we say, it's better to repair and replace these parts before you get to the point where you have a toilet clog backup or fixture leak and find the shut-off valve useless.
Call AAA Paradise Plumbing & Rooter for a free quote instead. We'll take a look at your plumbing fixtures and give you honest advice about replacing them now instead of waiting for a surprise leak later.
If you are looking for an expert plumber for Ventura Plumbing Fixture Repairs, please call 818-658-9222 or 805-642-9222 or complete our online request form.