Are You in Need of a Water Heater Repair in Ventura, CA?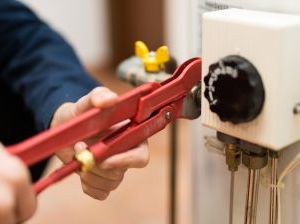 Your water heater should be of the utmost value to you as it helps keep the water in your home hot. Hot water is needed to bathe in, clean your dishes and wash your clothing. When you can no longer do that, then you're going to need a professional Ventura water heater repair. You'll always get great service and even better repairs from AAA Paradise Plumbing & Rooter.
Professional Water Heater Repair You Can Trust
When you're seeking a quality Ventura water heater repair, make sure and come to AAA Paradise Plumbing & Rooter. Your water heater is our priority. Contact us today and let's take a look at your tank. They make so many great water heaters now that you'll have a tough decision to make come time to replace yours.
Only a reliable Ventura plumber should be taking care of your water heater installation/repairs. Professional eyes see more than the average homeowners do. Also, a professional plumber has the experience and training to get the job done.
You never have to worry about your hot water tank again. Just make the call to AAA Paradise Plumbing & Rooter and you'll have a Ventura water heater repair done, in your home, while you wait.
Seven Signs To Tell When Your Water Heater Is Going Bad:
Banging Noises – Loud banging noises emerging from your how water heater is a sign that you're going to have to replace it as the valve, in the system, keeps shutting down without any notice.
Pools Underneath the Tank – If there are pools of water gathering underneath your tank, that means that you have a leak. A leak means that your tank is ready to go.
Longer than Usual – If it's taking a lot longer to call up your hot water, then chances are that your tank will need to be taken over by a new one. A new tank will be much more efficient and last you years longer.
Cloudy Water – Calcium & magnesium deposits accumulate in your tank. Once these start to accumulate in your tank, then the result is cloudy water.
Corrosion – Take a look at your tank. Do you notice corrosion? If you do, then you're going to need a plumber to fix your problem. AAA Paradise Plumbing & Rooter can have your tank replaced in no time.
Changes in Water Temperature – If there's been drastic changes in your water's temperature, then Heavy sediments, in the water, can cause your water temp to drop. It's also a sign that your tank needs replaced.
Older Units – Another way to tell if your tank needs to be replaced is its age. If your current tank is over 10 years old, then you may want to start thinking about a predecessor.
If you are looking for a professional Ventura Water Heater Repair Expert, then please call 818-658-9222 or 805-642-9222 or complete our online request form.