Looking For The Best Studio City Plumbing Services?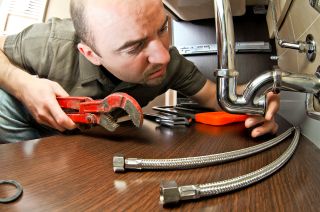 AAA Paradise Plumbing & Rooter provides high-quality Studio City plumbing services. We have served as reliable local plumbers since 1976. With so many decades of successful service, you can be sure that we offer the best in the area and that we'll get the job done right.
Our Studio City AAA Paradise Plumbing & Rooter plumbers and HVAC contractors are fully licensed, insured, and experienced to work on your plumbing repairs, installations, clogs, drain cleaning, gas lines and connections, water line connections, hot water heater installations, and so much more.
Family Owned & Operated
Emergency Plumbing Repairs
Video Inspections & Hydro Jetting
Trenchless Sewer Repairs
Clog Location Service
Environmentally friendly services
Your Studio City Plumbers
Are clogs driving you crazy? Or do you have a leak that warrants emergency plumbing repairs? When you have a clogged drain, low water pressure, leaky pipes or connections, toilet backups, or any other plumbing issue, call on the professionals at AAA Paradise Plumbing & Rooter.
We'll be there in a flash to take care of your plumbing repairs. As your favorite Studio City Plumbers, we do all we can to take great care of our customers. We'll make sure your plumbing is working as it should and stays in good repairs. Call AAA Paradise Plumbing & Rooter anytime you need plumbing services, 24/7/365.
New Plumbing Installations or Replacements For Studio City
There are times your pipes, sewer lines, or other plumbing parts need to be replaced. Whether it's new installation or replacements, the Studio City Plumbing Contractors at AAA Paradise Plumbing & Rooter is standing by to meet your needs. our Studio City plumbers can also help you find and install the best whole house filtration system for fresh, clean and pure water.
You don't have to live with hard water problems. Although hard water is very common, there are plenty of filtration systems that will take care of the problem. Your drains, pipes, fixtures, appliances, and family will thank you.
If you are looking for a Studio City Plumbing & Rooter professional contractor, please call AAA Paradise Plumbing & Rooter at 818-658-9222 or fill out our online request form.